The Oracle of Qi, Acupuncture and Holistic Therapy, Inc. - Jackson Heights, NY

Holistic Therapy Services in Jackson Heights, Queens, NYC
-= THE BEST Traditional Chinese medicine & Acupuncture in Queens
Holistic Therapy
and TCM in Jackson Heights, NY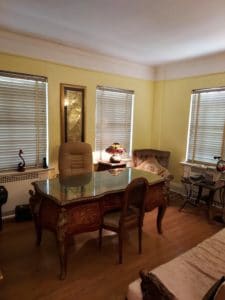 Work with a leading hypnotherapist, acupuncturist and  massage therapist to relieve ailments, accomplish goals and feel better.
Traditional Chinese medicine (TCM) is a branch of traditional medicine that is said to be based on more than 3,500 years of Chinese medical practice that includes various forms of herbal medicine, acupuncture, cupping therapy, Qi Gong (exercise) and dietary therapy. One of the basic tenets of TCM is that the body's vital energy (Qi) is circulating through channels called meridians that have branches connected to bodily organs and functions.
TCM describes health as the harmonious interaction of these entities and the outside world, and disease as a disharmony in interaction. TCM diagnosis aims to trace symptoms of patterns of an underlying core of disharmony by measuring the pulse, inspecting the tongue, skin and eyes and looking at the eating and sleeping habits of the person as well as many other things. We do this by treating the disease not just the symptoms.
*Cited from Wikipedia
New York State Licensed Acupuncturist Services
focused attention and increased suggestability
Traditional Chinese Medicine
Auriculoacupuncture (Ear Acupuncture)
Reasons to Why people choose us!
Hypnotherapy
Holistic Medicine
Massage Therapy
Oxygen Therapy
Chinese Medicine
Our goal is to restore the body to its natural balance.  We treat the patient as a whole, not just their symptoms.
The Oracle of Qi, Acupuncture and Holistic Therapy, Inc.
Request a call back for service information
Contact us or schedule an appointment. If you have any other questions, you can ask them here.
32-02 82nd St.
Jackson Heights, NY